u-Flux™
Laminar Flow Microfluidics
An integrated solution to reliably perform dynamic single-molecule experiments in a laminar flow environment
u-Flux™
Laminar Flow Microfluidics
An integrated solution to reliably perform dynamic single-molecule experiments in a laminar flow environment
u-Flux™ is an integrated solution to reliably perform single-molecule experiments in a laminar flow environment. The u-Flux™ microfluidics system consists of a highly stable passive pressure system, automated fluidic regulation, and a laminar flow cell.
The pressure system feeds multiple channels into the laminar flow cell where up to five adjacent flows are created.
No physical barriers are separating the highly stable flows, allowing you to freely navigate between DNA, protein, and other solutions.
Discover more about the u-Flux and the instruments that use it:
The ability to perform high-resolution measurements in a laminar flow environment results in an increase in data throughput. It creates new novel experiments where ligands can be introduced by laminar flow, while simultaneously being able to study their effect on the folding/unfolding pathway.
Protein unfolding in laminar flow
Calmodulin is the primary calcium-binding protein in living cells. Force-spectroscopic measurements of unfolding/folding of single Calmodulin proteins using optical tweezers reveal information on the underlying energy landscape and Calcium-binding induced structural transition. Here, a high-resolution force-spectroscopy experiment on single Calmodulin proteins is demonstrated in the presence of laminar flow in u-Flux™.
Courtesy of Prof. Matthias Rief and Marco Grison, Technical University Munich.
u-Flux™ features a highly stable passive pressure system, automated fluidic regulation, and a laminar flow cell. Using widely available fluidic components you are able to quickly detach individual syringes for (re)filling.
The optional automated fluidic valve module contains six individually switch-able valves that can be operated remotely using our software. The method used means there are no shock waves or temperature effects present.
The u-Flux™ microfluidics system utilizes passive pressure-driven flow which can be precisely monitored and controlled with our software. The system's high stability means zero dead volume and flow disturbance. FEP/Fused silica connection tubing is used to connect the pressure system to the flow cell.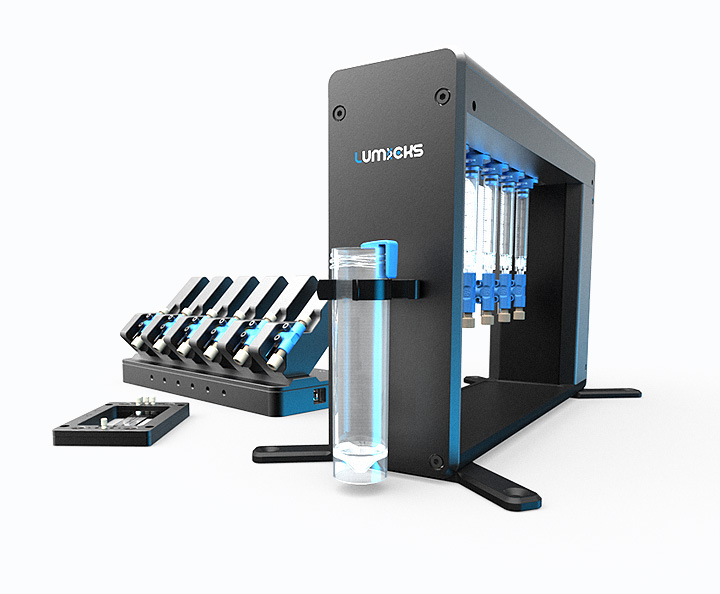 LUMICKS is available to support you in finding the ideal flow cell layout for your applications. Depending on your requirements we are able to design the ideal height, length & width for both your internal flow channel as the flow cell as a whole. Integration of temperature sensing is also a possibility.
In addition, LUMICKS can design and produce a custom holder based on your input that fits your commercial microscope or custom single-molecule instrument.
Ready-made
reagents, kits,

 and

tailored sample preparation services
Use our newly-established biochemistry platform and internal expertise for the purification, labeling, and preparation of your reagents for optical trapping experiments. With our multidisciplinary expertise in molecular biology, biochemistry, and dynamic single-molecule analysis, we've created the most extensive selection of ready-made reagents, kits, and tailored services to prepare your samples.