The z-Movi workflow
We've optimized the z-Movi workflow to facilitate excellent user experience and provide you with reliable and reproducible results in a matter of minutes. The z-Movi Chip is made to simplify cell culturing and maintain your samples in physiological conditions while you perform experiments. Once you have performed one run of analyses, you can simply flush in a new batch of effector cells. Running multiple chips sequentially allows you to measure several experimental conditions per day.
The workflow starts with incubation of target cells in the z-Movi chip for 2 hours. Afterwards, the effector cells can be flushed into the z-Movi chip and incubate for 5-10 minutes before starting the analysis.
The intercellular binding activities can be monitored in real time upon the application of an acoustic force ramp. Effector cells will detach from the monolayer in a force-dependent manner and accumulate at the acoustic node. You can follow the detaching of the fluorescently labeled effector cells from the top view of the flow channel.
Dive in and discover the Oceon software
In collaboration with end users, we have developed a fast and intuitive workflow that takes you from defining your parameters to viewing your data in no time. The powerful tracking algorithms for cell detection and measurements are performed in the background while the software generates your data live on your screen.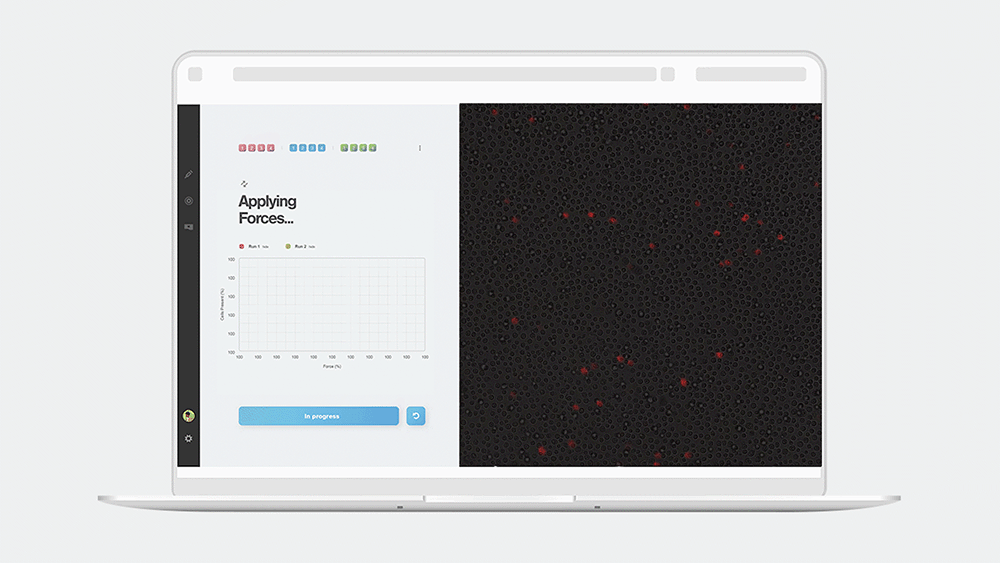 Powerful detection alogrithms
Set the parameters and let the Oceon software do the rest of the work by automatically detecting and tracking your cells of interest.
Real-time avidity data analysis
Observe your avidity curves being plotted in real time while your effector cells detach from their target cells
upon force application.
Figure-ready data plotting
Enjoy the benefits of Oceon's straightforward post-acquisition data analyses that generate ready-to present plots immediately after your experiment.
Royalty-free license
The z-Movi Oceon software comes with free updates, without license costs, and unlimited support. Analyze your data anywhere and anytime.
Our solution
The z-Movi® Cell Avidity Analyzer is a solution for researchers to determine cell avidity, which has been notoriously difficult to measure until now. Through avidity measurements, the z-Movi can help researchers investigate cell interaction properties that correspond to immune cell response in a predictive, reproducible, and fast manner. All this at a high-throughput and single-cell level, without compromising cell viability.
Being able to measure these interactions provides researchers valuable information and enables them to select best candidates at an early stage. This informed selection from the start can improve their success rate dramatically.